I sat with Tom Brady at his locker for seven minutes after the Patriots' 37-31 AFC Championship Game victory, and I can tell you he was dazed. Slightly dazed. Three really crazy things happened in this game that he was trying to process, still, about 50 minutes after his ninth championship game victory.
"We'll remember this one forever," Brady said, equal parts incredulous and grateful as he sat on a wooden stool stamped with the Chiefs logo. "It's one of the great wins in franchise history."
• Brady converted three third-and-10 passes on the only drive of overtime: to Julian Edelman, Edelman again and Rob Gronkowski.
• The pass play to Gronkowski, which gave the Patriots a first down at the Chiefs' 15, was not in the game plan. New England has run the Gronk slant before, but hadn't planned to run it here, and the only play they called that wasn't planned turned out quite possibly to be the biggest play of their day. As the 40-second play clock wound down, offensive coordinator Josh McDaniels called the play they hadn't practiced during the week because the coaches saw a coverage deficiency by Kansas City safety Eric Berry on Gronkowski.
• "We just put in eight new plays in the game plan this morning," Brady told me. At the team hotel, the Westin Crown Center in Kansas City, the offensive players were greeted at the 11 a.m. meeting with the news that eight new plays were being installed for the game. That happens, but not every week, and not eight plays' worth. They walked through the plays in a hotel ballroom, then ran four or five of them during the game—all for positive yards.
"Aren't you a little shocked?" I asked. "All of it—converting three third-and-10s in overtime, making another Super Bowl in a league that pushes everyone to the middle, surviving Mahomes …"
"Yeah," he said. "It's hard for me to imagine. Nine Super Bowls. I know. It's ridiculous."
One more thing I wanted to do with Brady. I had a chart … well, I'll show you what I showed him in the jammed Patriots' locker room, about his staying power in this game. Comparing Brady in the 14 postseason games he played in his twenties versus Brady in the five postseason games he's played in his forties: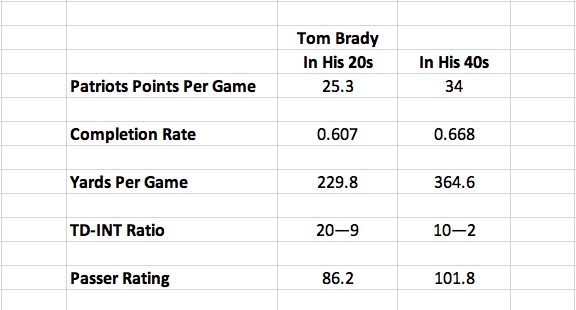 Brady smiled. "When you first started your job, compared to you now, are you better?" he said. "You have a lot more experience. That's what this is. Experience. So I don't think it is all that surprising. We have been fighting uphill all year. This game is hard to win. The next game is harder to win. This game, you just celebrate it for what it is. Then we go to work on the Rams.
"I never imagined any of this, believe me. This is beyond. I mean, who could ever imagine this? Nine Super Bowls? I just take it for what it is and enjoy it. I love my teammates. I love my coaches. I love my family. It takes a lot of people to support you for all of us. I'm just happy for all of us."
And, apparently, it's never going to end.