College basketball recruitment in the United States can be a years-long, expensive journey that sometimes ends with disappointment. High school hopefuls spend several summers trekking across the country, taking the court for travel and AAU teams just for a chance to be noticed by Division I coaches. The culmination of these efforts is a scholarship to play at the highest collegiate level.
For those that are recruited by Division I institutions, it can be a dream come true. The continuous sacrifices made to showcase your talent in front of coaches from around the country has finally paid off. For others, a lack of offers from top-tier schools can make the entire process seem worthless.
Imagine avoiding the grueling process altogether and being recruited through a screen. Athletes aspiring to play overseas use highlight videos, Facebook messages and Skype sessions to communicate with coaching staffs. While competition for a spot on a Division I roster is as fierce as ever in the United States, international students can be recruited through a laptop or cell phone screen without even stepping foot on a court to impress coaches.
College basketball programs often do not have the budget or resources to travel overseas to watch a player live, or fly the athlete to a workout session in the U.S. The difficulty of judging players based on a highlight tape strays most away from international recruiting. Some coaches take advantage of the niche market and bolster their roster with top-notch foreign talent.
Marist College in Poughkeepsie, New York sported six international players on their men's basketball roster last season. European natives comprised more than a third of the roster, representing Denmark, Sweden, Iceland, Montenegro, Italy and Finland.
International recruits pass up an opportunity to play under a contract in European professional leagues for the chance to play among United States competition. For players at Marist and other mid-major schools within the Metro Atlantic Athletic Conference, an American education is often at the front of mind.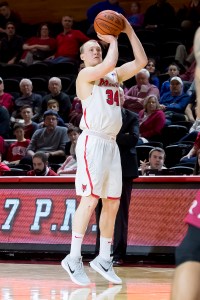 "When you're in Europe, you can try and receive pro contracts, but you can play pro basketball for many years. College is a one-time experience," said David Knudsen, a 6-foot-5-inch rising senior from Copenhagen.
He played for the Vaerlose Basketball Klub in Denmark's top league during the 2014-15 season. Injuries in consecutive summers leading up to college recruitment sidelined Knudsen, but a liaison from Denmark established a contact with Marist. Youth national teams in Europe can be a goldmine for college coaches, but only for those willing to take the risk.
Head coach Mike Maker was fired on March 5, after totaling a 28-97 overall record since he took the job before the 2014-15 season. John Dunne, hired on April 3, after 12 years heading Saint Peter's, does not have the international recruiting experience that Marist has become accustomed to for decades. "That's not an avenue that my staff has used," he said. "When you're recruiting, you don't want to spend a ton of money on players that you might not be able to get."
Dunne compiled a 153-225 overall record with the Peacocks. He has found a new home just over 80 miles north of Jersey City, but he already has a head start on his new gig after coaching against Marist twice each season. "I know they have seen the Saint Peter's program from a distance and competed against us, so they understand our expectations," Dunne said.
Unlike his predecessor, the defensive-minded coach centers his recruiting focus on the Northeast. "That doesn't mean we won't venture out to the Midwest, West Coast or even internationally if we have a good lead," he said. "But we are certainly going to pinpoint more recruiting in the Northeast."
Tobias Sjoberg, a 6-foot-9-inch rising junior from Malmo, Sweden, was recruited to Marist under the conditions of Maker and his staff. "He told me that he wanted me to start and add some size to the team," Sjoberg said. After acquiring interest from assistant coach Andy Johnston while playing in the U-18 FIBA European Championships and for Sweden's U-20 National Team, Sjoberg was evaluated by Maker based on highlight videos.
"You really have to be careful recruiting any player, international or not, if you haven't seen them play live," Marist Athletic Director Tim Murray said. "Most coaches will tell you it's really hard to evaluate off tape." Dunne has a similar mindset, adding, "You also have to evaluate the competition level."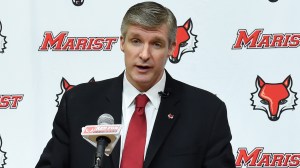 Against the norm, Maker went all-in on international recruiting, but it wasn't a method out of the ordinary at Marist. A bobblehead of Rik Smits sat in Maker's office as a constant reminder that the best player in the history of Marist men's basketball hailed from the Netherlands. The second overall pick in the 1988 NBA Draft shepherded the first wave of international players at Marist.
Murray was an assistant coach during Smits' time at Marist, as was current Pistons General Manager Jeff Bower. "When Marist was recruiting international kids in the mid-80s, that was almost unheard of," Murray said.
According to Business Insider, the NBA had a mere 1.7 percent of players born outside of the United States in the 1980-81 season. During that same decade, Marist often had a starting five that was mostly comprised of foreigners. The percentage rose to 7.6 percent in the 1997-98 season and nearly quadrupled in just under two decades, growing to 28.6 percent during the 2015-16 NBA season.
Marist was breaking barriers.
Smits teamed up with Frenchman Rudy Bourgarel, the father of Utah Jazz Center Rudy Gobert, to lead Marist to their only NCAA Tournament berths in 1986 and 1987. Bourgarel spent a decade playing professionally in France, but never made it to the NBA, a dream his son is now living.
Landing the 7-foot-4-inch Dunking Dutchman and Bourgarel sparked a history of international recruits at Marist, something that hasn't left since it began. But four straight seasons with over 20 losses under Maker was a cause for concern. "Bottom line is it's a win business and we didn't win enough," Murray said.
The Red Foxes were the doormat of the conference throughout Maker's stint as head coach, but the hiring of Dunne, a fellow MAAC head coach, will bring a defensive mind to the Hudson Valley. And boy, does Marist need help on that end of the floor, ranking among the worst of all 351 Division I programs last season in points allowed (333rd) and turnover margin (344th). "From Murray's view, I understand the decision because the results were not what we would have liked them to be," Knudsen said.
The decision left players in shock, especially those from overseas that forewent a professional career in Europe on Maker's word. "When he told me, I was pretty sad because this is the guy that recruited me, and I have great respect for him as a person," Sjoberg said.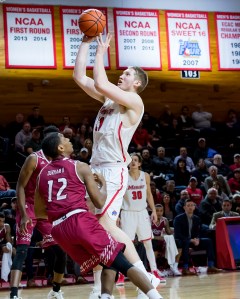 Though a coaching change is not in the cards for any athlete when they sign a letter of intent, there is added pressure for international players to prove they belong in the NCAA. "You have to go into all seasons hungry and try to prove yourself," Knudsen said. "I think Coach Dunne is more neutral and just looks at basketball."
Keep in mind, Maker offered most of the six international players on the roster last season their only Division I scholarship. Adjusting to a new head coach, especially one that has only coached two international players since 2010, could turn a life-changing decision into a regrettable one. "One of the things I say to athletes is that nobody likes change, but you can deal with change in one of two ways," Murray said. "You can embrace it and succeed, or you can resist it and fail."
As for Sjoberg, he was essentially guaranteed a starting spot on the team by Maker, but a bit of unrest may build if these plans are jeopardized by new coaches. "I think every kid is uneasy about their role with a new coach," Murray said. "Coach Dunne is going to look at things differently, so you have to basically re-prove yourself. It's a clean slate."
Just over a month into his position, Dunne is tasked with building a relationship with players familiar with his coaching style, but worried about their future role on the team. With any new coach, gaining trust is imperative. "I think communication is a really key component to successful coaching," Murray said. "My paradigm is recruiting, communicating and coaching, in that order and in that priority."
Dunne does not seem too worried about connecting with players, international or not. He isn't placing players from overseas under a different umbrella, but rather evaluating athletes individually. "It's like getting married," Dunne said. "You don't really know them until you're living with them every day. It's the same kind of thing, so you take it day by day."
The journey to college for international students usually isn't the high school standout, AAU all-star path that most athletes take. There is often a sit-back-and-wait approach, where coaches from national teams contact American schools about recruiting opportunities. European professional leagues remain a likely possibility for Division I prospects, but the college experience in the United States is a one-time opportunity.
Faced with an unexpected coaching change, international athletes are left up in the air about their place on a roster. Committing to a Division I program is rare for foreigners, but adapting to a new coach is worth the chance to play with the best collegiate players.
Marist has developed a pedigree of overseas recruits, so players like Knudsen and Sjoberg can rest assured that their talents will likely be valued under Dunne. "I think that he can do a great job with us as a team and myself as an individual," Sjoberg said. "As long as we do our job and do our best, he's going to notice that."