WWE's biggest show of the year is underway from Camping World Stadium in Orlando. Follow along as we go for the "Ultimate thri …
You're right, we're going to hear that phrase 50,000 times during the next six hours, so let's just move along. Get your snacks and adult beverages ready because this is going to be a long night.
Pre-show
5:30 ET: This has already replaced WrestleMania 26 as my favorite set. I can't even imagine what the pyro budget is tonight.
– All right Austin Aries got a very good reaction. Glad to see so many people are in the building 90 minutes before the show.
–  Neville's kick to the head of Aries was nice.
– Oof, the King of the Cruiserweights landed so hard on the outside.
– OMG how is Aries still moving. He landed right on his head from a German suplex.
– Can we all just be glad that this match was on the pre-show. Both guys have had a chance to shine and the crowd was getting up for the big spots.
– Nice striking sequence from both guys.
– Neville pins Aries after heelish tactics led to the Red Arrow.
– No matter how many times I see it, the Red Arrow is still amazing. Neville did almost crush Aries' face.
– If the Andre the Giant Memorial Battle Royal was in the bigger ring, IDK if I would care about it. Just look at these jabronis.
– SAnitY's entrance would not have worked in the daylight, but annoying that Killian Dain is just another "guy" in this match.
– Oh snap, Braun Strowman and Big Show eliminated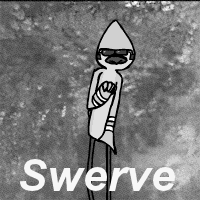 – That moment when you realize Luke Harper is in the ring.
– Man, American Alpha once again just looks like a couple of guys. Jason Jordan should have at least had a flurry of suplexes before getting tossed.
– Tian Bing with a nice showing. Much better than Hideo Itami two years ago.
– So Mojo is winning right?
– The security guard doesn't know who Gronk is.
– Noticeable sound issues throughout the pre-show. Weird considering how top notch WWE broadcasts are.
– Jinder Mahal just got GRONK'd.
– Gronkowski really should think about joining WWE after his playing career wraps up.
– Dain stunningly lasted until the final three. Must be viewed as a hot prospect.
Mojo eliminates Jinder Mahal to win the ATMBR. 
– WHY DIDN'T GRONK AND MOJO CELEBRATE LIKE STONE COLD?
Baron Corbin vs. Dean Ambrose for the IC title 
– These guys are working hard, but you can tell the crowd just wants the main show to begin. Much quieter than it was for the cruiserweight match and the battle royal.
– This match could have really used some weapons.
– Corbin reacting to a two count is just hilarious. THAT WAS THREE!
– Crowd is starting to get behind Ambrose.
– The rotation counter for the End of Days always looks impressive.
Dean Amrbose beats Baron Corbin to retain the IC title
– Really surprised Corbin looked up at the lights here. It felt like he was set for a run with SmackDown's mid-card championship.
Main card
7:00 p.m. ET – Yes, the pre-show is FINALLY over. Let's see what opens the show.
– Mandatory performance of "America the Beautiful," I wonder what's going through Vince's mind right now.
– "The Greatest Live Event in Entertainment"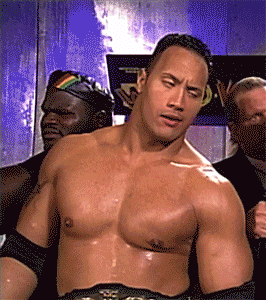 – It's your WrestleMania hosts the NEW DAY.
– Xavier Woods' hair is a sight to behold.
– Um … is this Raw or WrestleMania? That was a waste of a segment besides Big E "pull the lever" line. At least throw out some ice cream bars.
– WHAT, AJ Styles vs. Shane McMahon is opening the main card!?
– MASSIVE POP for Styles.
– Styles' gear is fire emoji, fire emoji
– Styles' new shirt is red and his gear has red in it. He's definitely going to Raw.
– OMG Otunga just said there's "no way" Styles is going to tire out Shane McMahon.
– Shane is already pouring sweat btw.
– Will say Shane did OK with the chain wrestling sequence. Crowd appreciated that.
– HOLY CRAP, Styles "launched" Shane with a baseball drop kick to the outside. Shane flew over the announce table.
– Is a thunderstorm coming?
– As expected, Shane is getting in a lot of offense. The crowd hated when he back Styles into the corner and threw his terrible looking punches, but Styles made Shane's running back elbow look solid.
– For those who care, Shane is wearing the Jordan XXXI Chinese New Year.
– Hey, that submission sequence wasn't terrible! If you would have told me before the match that they were going to do that, I would've done this: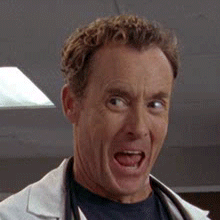 – The Styles Clash sequence was top notch. I was really surprised Shane kicked out.
– REF BUMP, DRINK.
– Styles' coast-to-coast attempt was blocked by Shane and a trash can. Just a reminder that Styles is one of the best sellers in the company.
– Shane with a beautiful coast-to-coast.
– Man this one is going much longer than I thought it would.
– Shane ate it on the elbow through table spot.
– OMG Shane counters a Phenomenal Forearm into a float over DDT and then MISSED A SHOOTING STAR PRESS.
AJ Styles pins Shane McMahon after hitting a Phenomenal Forearm. This may have lasted a bit too long, but the last five or so minutes were very good.
Chris Jericho (C) vs. Kevin Owens for United States Championship 
– The crowd counting down Jericho's entrance gave me goosebumps.
– A giant list and a light up vest! If only Y2J had a light up scarf.
– Owens' cannonball to Jericho on the apron looked cool.
– Anyone else chuckle when K.O. yelled "ASK HIM!" at the ref?
– The Roommate laughed when Owens yelled "You have no friends" at Jericho.
– Every time Owens sets up for the package suplex, I think he's going to hit the piledriver.
– Nasty bruise just above Owens' right eye.
– Nice counter sequence from both guys. Always amazes me when someone counters Owens' swanton bomb with their knees.
– The Go-Home Driver!
– I said this to "Easy" Ed on Friday before I left worked, I was worried that Jericho and Owens' match would slow down a bit too much and that kind of happened. The crowd sat on their hands a bit during the middle of this one.
– Jericho kicked out of the pop-up powerbomb and Owens put his right index finger on the bottom rope to break up the pinfall after a Codebreaker. The finisher kick out counter is now at four.
– Kevin Owens pins Chris Jericho to become the new United States Champions after an apron powerbomb of death!
Raw women's title match up next, shocked this is happening already. Once again the match order is highly questionable.
– Fireworks for Bayley. Her entrance looked amazing, especially the giant Bayley Buddies by the ring.
– Sasha Banks is riding down to the ring on the back of a fancy golf cart, better get that queued up for the Undertaker's entrance.
– The camera shot with Charlotte standing close with the fireworks going off in the background was just incredible. The set makes this event feel so special.
– I think this match is going to go like this. Nia get the heat early and then Charlotte, Bayley and Sasha all team up to eliminate her. Bayley and Sasha team-up to try and eliminate Charlotte, but then Sasha gets eliminated and turns on Bayley. Let's see what happens …
– Jax dominating early. Step 1 complete.
– Dude, Nia Jax just landed right on the back of her head after a double suplex-boot combo move.
– Nia Jax eliminated after getting hit with a triple team powerbomb. Charlotte, Bayley and Sasha all jumped on top of her for the pin.
– Charlotte hit that corkscrew moonsault to the outside perfectly.
– Sasha Banks eliminated after she gets sent into the exposed middle turnbuckle by Charlotte. Crowd was not happy.
– Why did we have to have the Fatal Four Way gimmick if two of the competitors were going to get eliminated this fast.
– Charlotte ran Bayley's knee into the exposed turnbuckle and is now working it over. Is she going to run through the division tonight?
– Nice backbody drop from the top rope by Bayley.
– Bayley retains the Raw Women's Championship after hitting a top-rope elbow on Charlotte
– Well that came out of nowhere … gotta wonder if their time got cut before the show started.
HOF recap from Friday, this means I finally get a bathroom break.
– This pop for Kurt Angle is going to be awesome.
– Where does Angle's theme rank all time? Gotta be top five right?
Raw Tag Team Championship ladder match between Gallows and Anderson (C) vs. Enzo and Cass vs. Cesaro and Sheamus
– This is Enzo's best outfit of all time:
– Crowd is thunderous for the SAWFT chant.
– Cesaro is wearing a suit that's also a kilt. James Bond would never wear that.
– Odds of Sheamus's giant cut getting opened up during this match is extremely high.
– I just hope Enzo makes it out of this match alive.
– Crowd is not going to be happy when the New Day is the fourth team in the Fatal Four …
– WHAT THE …
– Hey Matt Hardy how does it feel to be back?
– Cesaro is so lucky that he didn't get seriously hurt when Big Cass potatoed him on the ladder.
– That big boot from Cass to Jeff Hardy looked vicious.
– Cesaro just swung Anderson around like 20 times, while Sheamus delivered the Beats of the Valkyrie to Gallows. Got a standing ovation from the crowd.
– Ah they got the Cass lifting Enzo up the ladder spot out of the way already.
– Enzo is taking a hard fall off of a ladder at some point.
– A Twist of Fate from the top of the ladder to Gallows, a swanton bomb from Jeff Hardy off of a 20-foot ladder through Cesaro and Sheamus who were draped on ladders that were positioned from the ring to the barricade.
Matt Hardy pulls down the titles and the Hardy Boyz become seven-time tag team champions. 
From bell-to-bell this was a very good match. There was never a down moment and the crowd was super hot throughout.
John Cena and Nikki Bella vs. The Miz and Maryse 
– Jerry "The King" Lawler joining the commentary booth. You know what this means? NO OTUNGA!
– Al "Chocolate Thunder" Roker needs to embrace his heel side.
– The percentage of the crowd singing John Cena "sucks" was around 75%.
– The Miz is getting thunderous cheers right now. Really didn't think this would happen.
– Very slow pace to start this one. Miz controlling the action. This match is already going longer than I thought it would.
– No, keep him away from the table.
– Got a bit uneasy when Nikki did the suicide dive. Gotta wonder what kind of shape her neck is in.
– John Cena and Nikki Bella defeat The Miz and Maryse after a simultaneous AA and Rack Attack 2.0. Well that ended in quick fashion. Miz controlled 98% of that match. The worst one of the show so far.
– Is the crowd about to boo Cena's proposal?
– Is Natalya going to run in and interrupt?
– Cena proposes!
– This is a pretty awesome moment. Feels genuine.
Triple H vs. Seth Rollins 
– This pre-match video package was great when I watched it the first time on Monday, it's just as good now.
– I love how Stephanie has been incorportaed into Triple H's entrance over the last two years.
– HHH has to love the fact that he's not in the final match of the night in this marathon of a show.
– Why isn't Samoa Joe riding in a side car next to HHH?
– That moment when you thought Seth Rollins was getting a new theme. Very cool entrance though.
– I wonder if Rollins got that torch from Randy Orton's ceremony.
– Rollins was reportedly battling a rough illness earlier in the week. Hopefully he's feeling better.
– Going into the show, I thought this would be the Match of the Night, let's see if these two can deliver.
– We're less than two minutes in and Rollins has already lost his wristbands. Has the guy ever heard of tape?
– Rollins' gear getting compared to Goldust. Let's be real, Goldust never wore anything this awesome.
– The buckle bomb is back. Just know I cringed when HHH hit the corner.
– Gotta think a big spot is coming soon. They've been going at a pretty slow pace.
– If you're wondering if the Hardys are still broken? Here's your answer:
– Here come the chairs!
– Pulling the table out from under the ring will always get a pop. It will seriously never not get a cheer.
– It's Falcon Arrow not Falcon's Arrow. Mike Cole always struggles with that one.
– Rollins has been watching some Johnny Gargano tape.
– Triple H has been watching some CM Punk tape.
– Man the crowd is starting to get a bit tired out. Haven't reacted to this match very well at all.
– SUPER close near fall after a pedigree. The finisher kick out counter is now at five. Considering the last one happened in the Jericho-Owens match.
– Stephanie just got put through a table. That woke the crowd up.
Seth Rollins pins Triple H after a pedigree. Kinda wish the counter sequence for the pedigree would have happened after Steph went through the table. Crowd was ready to get super hot for the finish. Match stayed at one gear the entire time, so it's fair to wonder if the knee gimmick didn't exactly help the match.
– Shockingly no Samoa Joe appearance.
– Why couldn't the Pitbull performance get cut from the show? It's 10:15 and we still have four matches left. Is this damn show going until Midnight?
Bray Wyatt (C) vs. Randy Orton for the WWE title
– Orton was so damn goofy leading up to this match and this video package can't change that.
– Wyatt's entrance looks so wild with this many people holding up cell phones. Must be bone chilling for him to walk down that long ramp and look out into the crowd.
– Woah, the snake on the entrance ramp is a delightful touch.
– ONE FALL.
– Greg Hamilton is seriously underrated.
– It's now time to wonder if the SmackDown women's title match got cut from the show. If not, this might go to Midnight.
– Woah, an image of a bunch of maggots was just projected on the ring. That was awesome.
– And now it's worms.
– Crowd is dead right now, but what else would you expect? This show is a marathon and the crowd is gasping for air like the out of shape person who enters a 5K without training.
– Ah the mandatory punt attempt from Orton at WrestleMania.
– Orton kicks out of Sister Abigail. Finisher kick out counter is at six.
Randy Orton wins the WWE title after an RKO outta nowhere. This was the worst match on the show. The gimmick of Wyatt "changing" the image on the mat was unique and did the job, but the action from bell-to-bell just never clicked and the crowd didn't even care about the title change.
Goldberg (C) vs. Brock Lesnar for the Universal Championship
– I would have to imagine the crowd is going to be hot for this one. If not, maybe the SmackDown women's title match should get cut.
– The pop for Brock Lesnar was similar to one that you would hear at the third hour of a boring Raw.
– Oh shut up with your numbers to remember Mike Cole.
– Damn, Goldberg is in tremendous shape.
– Crowd didn't even budge for his pyro.
– Crowd is dead, who you gonna call? Paul Heyman!
– Man, quite a few boos when Jojo introduced Goldberg and now they're roaring for these Brock suplexes.
– HERE WE GO. SPEAR, SPEAR, SPEAR THROUGH THE BARRICADE
– Lesnar kicked out of the Jackhammer! Finisher kick out counter is at seven.
– This place is going to explode when Lesnar hits the F5.
Brock Lesnar pins Goldberg after hitting an F5 to win the Universal Championship. Lesnar gave Goldberg 10 german suplexes. This match did wake the crowd up quite a bit considering how quiet they were for the entrances. Could not have been booked better.
SmackDown Women's Championship Six Pack Challenge
– Mickie James channeling Tatanka with her entrance gear.
– Apparently it's Carmania.
– Naomi's entrance looks effing crazy on this stage.
– So this match is going to be a quick one. Imagine it's just going to be a spotfest.
– James Ellsworth just tried to superkick Becky Lynch, who landed an exploder suplex on him.
– A double sharpshooter? I guess that kinda worked.
– She calls that the rear view is apparently still the name of the move.
Naomi makes Alexa Bliss tap out to win the SmackDown women's championship. This match was exactly what it needed to be considering the time. Everyone got their spots in and no one messed anything up.
Oh no, not another New Day segment …
– Here comes the inflated number for the Citrus Bowl attendance record.
Main event time FINALLY, Roman Reigns vs. The Undertaker
– This is an amazing video package, but we seriously might go all the way until Midnight.
– What if the Undertaker gets rolled out to the ring in a casket? That will save us 15 minutes.
– Now this one is No Holds Barred. Good call considering how limited the Undertaker might be.
– So glad to see Jim Ross is back in his environment considering the recent tragedy he endured.
– The crowd isn't tired enough to hold back from booing Reigns.
– Undertaker coming up through a trap door in the ramp for the win!
– This is amazing:
– Undertaker and Reigns trading huge blows to start. Expecting a slugfest from these two.
– One of my favorite little things the Undertaker does is when he stumbles into the corner with his hands up like he's ready to fight, but clearly on dream street. That always cracks me up.
– Crowd is so quiet that you can hear Reigns and Undertaker calling spots.
– DAYMN Reigns with a wicked spear that drove Taker through the Spanish announce table.
– No one gives better chair shots than the Undertaker.
– Shouldn't the Undertaker not be surprised when someone kicks out of the Tombstone at WrestleMania?
– Oof, Reigns tried to counter a Tombstone and it led to a very bad botch. Reigns called an audible and hit Taker with another Superman punch.
– Reigns isn't afraid to swing that chair either.
– This crowd is going to be too tired to riot after Reigns wins.
– Undertaker has kicked out of two spears and Reigns kicked out of a Tombstone, which means the finisher kick out counter is now at 10.
Roman Reigns pins Undertaker after hitting a huge spear. This felt like a squash. Reigns controlled a good chunk of this match especially the final five minutes or so. Really thought Undertaker would hit another Tombstone.
– Undertaker sits up in the ring after Reigns leaves. Somehow he's back in his entrance gear.
– If this is really it for the Undertaker, you have to wonder how he feels about that performance and the crowd reaction. There was just nothing left for them to give because IT'S AFTER MIDNIGHT.
– Taker is so close to losing it right now. There's definitely some tears in that ring.
– THANK YOU TAKER
All right folks, that's it for me. I hope you enjoyed the show. You can follow me on Twitter @ScottDargis