The night of the Royal Rumble was not one of my finer moments since I've been given the opportunity to write in this space. In the days following the Rumble, I couldn't help but think that I was just another fan shouting about what the company had gotten wrong that night.
Specifically, the handling of Samoa Joe.
I yelled from my soapbox that night because I thought it was the perfect opportunity to introduce Joe, but in hindsight I realize that it would not have been nearly as good as the way he debuted the next night on Raw.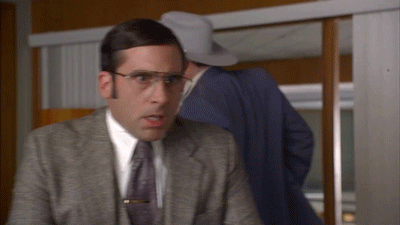 If he entered the Rumble match at say number 17, it would have broken up the string of mid-carders and given Joe a brief moment of shine, but he would have felt like just another jabroni when Brock Lesnar, Undertaker and Goldberg made their way down to the ring.
Instead, Joe was inserted as a main event player right away by "attacking" Seth Rollins and aligning himself with HHH as Hunter's personal hitman. Even though it's terrible that Rollins legitimately tore his MCL during their scrap, the reality of Rollins' injury helped the aura of Joe's character.
The portion of the crowd who is unfamiliar with Joe's work around the world and in NXT had a reason to hate him when his music hit during the opening segment on Monday night. Rather than being positioned in the midcard with 99 percent of the roster, he has been placed in the upper echelon of performers.
Not only did he cut a superb promo in the opening 15 minutes, which was incredibly impressive considering the microphone isn't the strongest weapon in his arsenal, he was given the main event slot against the guy Vince is continuing to push as the company's next John Cena.
Going into his match on Monday against Roman Reigns, I was worried that Joe would get placed in a 50/50 match against him, which is not how someone gets over with the crowd during their first appearance in the ring.
Thankfully, Joe "beat down" Reigns before the bell rang and then controlled a good chunk of the match before Reigns made his inevitable comeback.
If you want to complain about the finish (Braun Strowman stormed down to the ring when Reigns was in position to vanquish Joe), I'm not going to stop you, but no one should be upset that Joe was given a pinfall victory over Reigns in his first match on the main roster.
It's clear that Joe is viewed as an asset during the company's biggest time of the year, which is key for him after WrestleMania. When the part-timers go away and the full-timers are called on to handle the bulk of the shows week in and week out, Joe will be one of the featured attractions on Raw.
Who knows what he's going to do at Fast Lane now that Rollins is out until WrestleMania and his spot at Super WrestleMania Sunshine appears to be just as murky now that we can piece together a good chunk of the card (HI FINN BALOR), but whatever spot he's given, the crowd will react appropriately because the company is telling us that we should take him seriously.
Especially when he's wearing a suit.
The prettiest GIF you'll see all day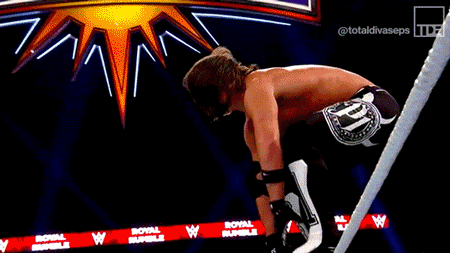 Time to "Go Home"
– So is Baron Corbin beginning to make a face turn? Last week he was positioned on commentary with The Miz, but I didn't think anything of it because Miz has such a big personality when he has a microphone that anyone who opposes him in that space is going to come off as a face.
But during the AJ Styles-Dean Ambrose match last week in which Miz and Corbin were on commentary, Baron kept putting over both guys during the match. Then, this week on SmackDown he interrupted Miz during the opening segment and the crowd cheered for him because he was once again positioned in a spot where they were going to pop.
Ambrose and Styles eventually made their way down and had a very, very good fatal four way match, but let's rewind for a second. Ambrose could have been positioned in the spot to interrupt the Miz because Dean is a face. Styles would have been next and then Corbin could have been last and declared that he didn't care who was in the Elimination Chamber because he's going to run through everyone.
Whatever the case, I'm really digging how they're pushing Corbin now. The creative team on SmackDown has done a great job with him and Alexa Bliss; two people that never reached their full potential in NXT and are now beginning to thrive on the main roster.
– Was anyone else shocked at how Styles took the End of Days? I thought it would look so much better.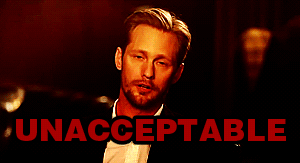 – Kevin Owens, Chris Jericho and Bill Goldberg had quite the entertaining segment on Monday. It began with Y2J putting Tom Brady on the list for people calling him the G.O.A.T and it ended with Jericho putting Owens in a title match against Goldberg at Fast Lane.
It is a bit of a bummer that Goldberg is going to walk into WrestleMania with the Universal title considering how well the "best friends" angle between Owens and Jericho has gone, but the idea of Goldberg facing Brock Lesnar for the red strap at Mania will appeal to the casual viewer who resurfaces for the company's biggest show of the year.
– At first I was not a fan of the Braun Strowman's push because it felt like Vince was once again forcing a big dude on the crowd when he wasn't ready to take the ball, but now I'm sad that he's going to get fed to the Roman Empire at Fast Lane.
Strowman has gotten so much better in the ring. Sure, he's still reckless at times (he dropped Roman right on his head during the powerslam through the barricade spot this past Monday, the link below has the spot queued up), but think about how green he was last July. Kudos to him for improving this much in seven months.
– While the Natalya-Nikki Bella segment started off a bit awkward, it ended with a bang. I was pleasantly surprised that the idea of John Cena leaving Nikki for Natty was suggested by Natalya.
– There were quite a few good to great matches this week: Joe vs. Reigns, Zayn vs. Jericho, Styles vs. Ambrose vs. Corbin vs. Miz, the 12-man tag team match on SD, Cena vs. Orton, but none were better than the Fatal Five Way elimination match on 205 Live between TJ Perkins, Cedric Alexander, Mustafa Ali, Noam Dar, and Jack Gallagher.
– For the first time since the cruiserweights were reintroduced on the main roster, this is a match worth seeking out. It was physical and high-flying.
– The Ascension got a win?!?!
– Quit teasing us Mauro by name dropping Kurt Angle during an American Alpha match.
– Also, this was a rough week for Mauro. He called the Elimination Chamber the "Hell in a Cell" twice and had quite a few slip-ups on commentary. No one is going to be robotically perfect in this role, but Mauro can make so many mistakes at times that it wouldn't surprise me if making mistake becomes his gimmick. Let's hope this doesn't happen.
– So Lesnar and Paul Heyman showed up after Raw for a dark match segment with Big Show. Got it.
– I thought the duel contract signing segment on SmackDown was very effective. Mickie James, Becky Lynch and Alexa did an excellent job with their promos, especially Lynch. Naomi still has some work to do on that end, but the head kick she delivered to Alexa over the table looked really good.
– The finishing sequence to Akira Tozawa's debut on Raw was pretty slick. The snap German suplex got a nice reaction.
– So Sasha is definitely costing Bayley the title next Monday, right? Does that mean we're going to get Nia Jax vs. Charlotte at Fast Lane?
– Don't get on Cody Rhodes' bad side:
Twitter: @ScottDargis