No, you didn't step into a time machine.
Even though they felt like it at times, this week's episodes of Raw and SmackDown weren't taped in 1997.
Throughout both shows there appeared to be a nod to WWE's Attitude Era, which just happens to be the most successful period in company history.
Back then (1997-2002) the show was rated TV-14, which allowed WWE to explore some very…well…questionable storylines that simply can't be replicated today.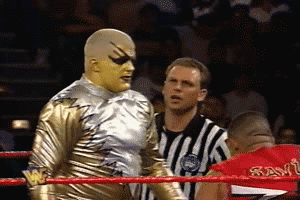 The boundary of WWE's TV-PG programming felt like it was pushed this week, even though in reality, it wasn't. A 2012 study of what kids may see on TV-PG shows proves that this week's episodes of Raw and SmackDown were actually tame.
(Apologies for the extra reading, but if you'd be surprised at the amount of curse words and innuendoes that are used in shows with a TV-PG rating.)
In no particular order, here were all of the moments from this week that provided a flashback into a time that many consider to be the "Golden Age" of professional wrestling:
Becky Lynch calls Alexa Bliss a b****
After a pretty good contract signing between Becky and Alexa to open up SmackDown (which featured a table bump!), Lynch was interviewed backstage by Renee Young and delivered her best promo since she's been called up to the main roster.
There wasn't any straight fire or Becky Balboa nonsense in that segment, which felt refreshing. Lynch really showed off her range here, which is the first time that's happened.
Sasha Banks wins the Raw Women's championship in a Falls Count Anywhere match
This was an excellent match and worth your time if you can find it online. It was definitely better than their clumsy Hell in a Cell match.
Creative was very smart to book the two in a countout finish earlier in the show. Not only did it give a logical reasoning for the stipulation, it pushed the match into the main event spot where it belonged.
So how does this match tie into the theme of this column?
Weapons.
Tons of action on the outside.
An announcer table spot (even though no one went through said table).
Brawling into the stands.
The kendo stick shots Banks and Charlotte delivered to each other were BRUTAL. The moonsault Charlotte delivered to Sasha was beautiful (as always) and the finish was a very creative spot, even if it did come out of nowhere and felt a bit rushed.
This is a match that could have closed a hot episode of Raw 18 years ago with a bang.
Carmella talks about Nikki Bella's implants
Yeup.
AJ Styles almost kills James Ellsworth/Brawl with Dean Ambrose
The Ambrose Asylum returned and it featured a taste of what we can expect this Sunday when Ambrose and Styles face off in a Tables, Ladders and Chairs match for the WWE World title.
After Styles eliminated Ambrose from the equation, he turned his attention to SmackDown's number one mascot, James Ellsworth. Styles dumped a ladder onto Ellsworth, cracked him with a chair and then delivered a vicious looking Styles Clash from the steps onto the floor.
(That is easily the best looking Styles Clash that AJ has delivered since joining WWE.)
The final segment of the show ended in the middle of a backstage brawl between Ambrose and Styles:
Watching the two beat the crap out of each other made me think about how stale the endings to most episodes of Raw and SmackDown are. There's rarely a cliffhanger. Someone just poses in the ring as one of the announcers sign off to conclude the episode.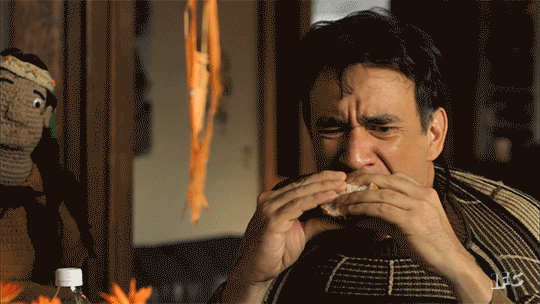 This ending felt fresh and it made me want to watch the Pay-Per-View on Sunday (let's be honest, I was going to watch it anyway, but now I'm looking forward to the main event a bit more than I was before SmackDown).
Cesaro and Sheamus get into a bar fight
If only the APA made a cameo.
 Enzo Amore pushes the envelope right out of the window
I'm going to present this example without comment:
Now, Enzo has the ability to ad-lib in his promos (a source told me this got him into a lot of trouble during SummerSlam. He spent too much time reciting Biggie lyrics), but the line he delivered to Lana on Monday was seriously unexpected.
Was Raw better than SmackDown this week?
But both shows were pretty entertaining. It's just rare that an episode of Raw is entertaining for all three hours.
Time to "Go Home"
– So last week I said I didn't think I'd be able to fit 205 Live into my schedule, besides the main event. Well, I ended up watching the entire episode and outside of the opening match, I liked it quite a bit. The video packages were extremely similar to what we saw during the Cruiserweight Classic, which will really help some of these guys get over with the crowd.
Rich Swann and The Brian Kendrick had the second best match of the week behind Sasha and Charlotte and the world was re-introduced to Jack Gallagher, who is extraordinary.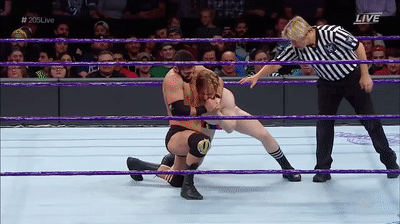 – Austin Aries was literally laugh-out-loud hilarious on commentary. He actually overshadowed Corey Graves. I never knew how much I wanted to hear Aries commentate a match until he ripped the Bollywood Boys.
– Is it just me or is this Braun Strowman-Sami Zayn storyline actually helping both parties?
– Alexa Bliss has the best facial reactions.
– Vince loves to put a heel over the hometown babyface, but it just didn't feel necessary to beat Cedric Alexander on Monday. The crowd was pretty hot for him. He could have used the win over Tone Nese.
– Dream scenario for the Royal Rumble: Jericho eliminates Goldberg to win and faces Owens for the title and the list in a unification match at the WrestleMania.
– Paul Heyman delivered an A+ performance on Raw, but what else would you expect from a legend? Also, Heyman dropped an F-bomb this week that was bleeped out. You can add that to the list above.
– Kevin Owens' promo on Monday made me flash back to when he was a smash-mouth heel in NXT who wasn't afraid of anyone and felt like the next big star in the company.
– I want that Kevin Owens back please.
– American Alpha vs. Randy Orton/Bray Wyatt was a nice match, but it's amazing to me how American Alpha just feel like guys on the roster instead of the "hottest" tag team in the company.
– Will Orton turn on Bray or will Bray turn on Orton?
– The New Day are heels…right? Whatever the case, I like this whole cheating to win gimmick.
– WWE is reportedly set to "raid" ROH and ROH reportedly offering The Young Bucks a multi-year deal. I think I just found my new favorite feud.
The Twitter Machine: @ScottDargis