It's time.
Chicago Cubs fans waited for more than 100 years to celebrate bringing a title back to Wrigley Field and they wasted no time securing a spot to watch the parade.
Don't get mad Blackhawks fans, but this was the biggest parade that the city of Chicago has seen since Ferris Bueller's Day Off.
And it lived up to expectations.
Even Grant Park, where the Cubs will be ending their parade, was packed before the parade started.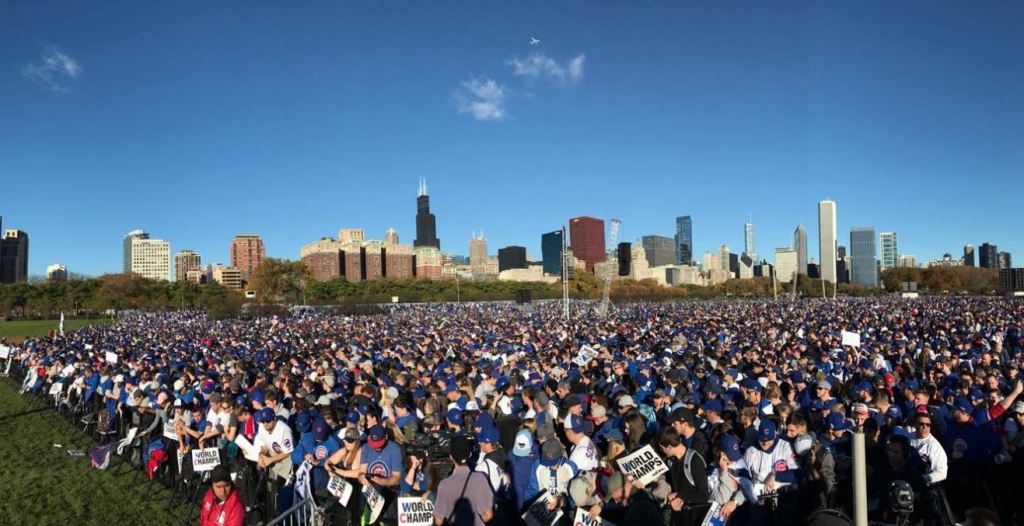 Other Cubs fans took to the great outdoors to conduct their parade.
Chicago's well known for dying its river green on St. Patrick's Day, but today, it's blue.
In an incredible twist of irony, Chicago Public schools were scheduled to be closed on Nov. 4th anyway for a school improvement day, but some schools in the Chicagoland area were still given the opportunity to participate in the festivities thanks to a really cool principal.
On the buses, Anthony Rizzo was amped, while team grandpa David Ross discovered how to take a pretty well done selfie.
(Update: Kris Bryant is still wearing the belt.)
Travis Wood just got a little too excited.
Veteran pitcher Jon Lester has been through enough World Series parades to know that when they tell you to sit, there's probably a good reason.
Walter Payton's son, Jarrett, found a warm (and rather spacious) spot to watch the parade.
The intro of the day goes to play-by-play man Pat Hughes, who summed up exactly what all Cubs fans are thinking.
"Did anybody go to work today? Did anybody go to school today? Your teachers and bosses are all here, too."
Theo Epstein reflected on the Cubs' season and what this World Series meant to the team in an emotional speech at Grant Park. He mentioned that the rain delay during Game 7 was a big deal for the squad, and after introducing Joe Maddon, he relayed that he's going to continue on his bender.
The Cubs manager also wore a "We Did Not Suck" shirt.
Miguel Montero and Jon Lester kept it short and sweet. Montero just said, "We Are Good!" and Lester called for more cheers for David Ross.
MVP Ben Zobrist spoke a bit longer, giving credit to Anthony Rizzo for playing Rocky movies all week long and David Ross for inspiring the team when the Cubs were down 3-1.
Anthony Rizzo gave credit to nearly every person associated with the Cubs, even giving the final out to owner Tom Ricketts. The most touching moment of the speeches was when the first baseman got emotional when introducing catcher David Ross.
Grandpa Ross revved up the crowd with a major CHICAGO, thanked his family, and then did the most millennial thing of all time.
He took a selfie with the crowd.
We made it through nearly the entire parade before we found the Cubs' J.R. Smith: Travis Wood, who lost his shirt as Brett Eldredge closed out the event with a rousing rendition of "Go Cubs Go".
For a celebration 108 years in the making, a turnout of 5 million people is tremendous.
Enjoy it, Chicago.