Did you miss me?
WHAT
Wondering where this column has been?
WHAT
Where was I for the SummerSlam build?
WHAT
You probably didn't even notice I was gone.
Oh c'mon, that's all I had to do to stop the what chants?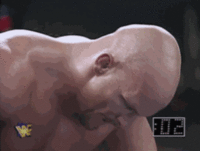 Well for those who are actually wondering where I've been the past two weeks, it has something to do with five colored rings and sports such as handball, badminton, and equestrian. Not going to lie, it was nice to not have to stress out about writing this column because the pair of Raw and Smackdown episodes leading into SummerSlam were satisfactory at best, but thanks to the amount of news coming out of the 13 hours of WWE programming this week (and a special bonus segment from Talking Smack), talking about professional wrestling is going to be super easy. It also means that this column is going to be long af, but not nearly as long as the six hour monster that aired this past Sunday.
There is absolutely no reason for a wrestling show to go more than three hours. If built correctly, a WrestleMania card might have the juice to go four hours, but odds are the crowd is going to be really tired by the main event. The 18,000 at the Barclays Center on Sunday didn't have enough fuel to reach 9:30 due in part to the questionable match order, but mostly it was thanks to the monstrous length.
If the show would have ended after Styles-Cena, the crowd would have walked out happy and wouldn't have seen the incredibly boring match between Ziggler and Ambrose for the WWE World title. Balor's right labrum would still be intact and Randy Orton's head wouldn't have a Harry Potteresque lightning bolt on it.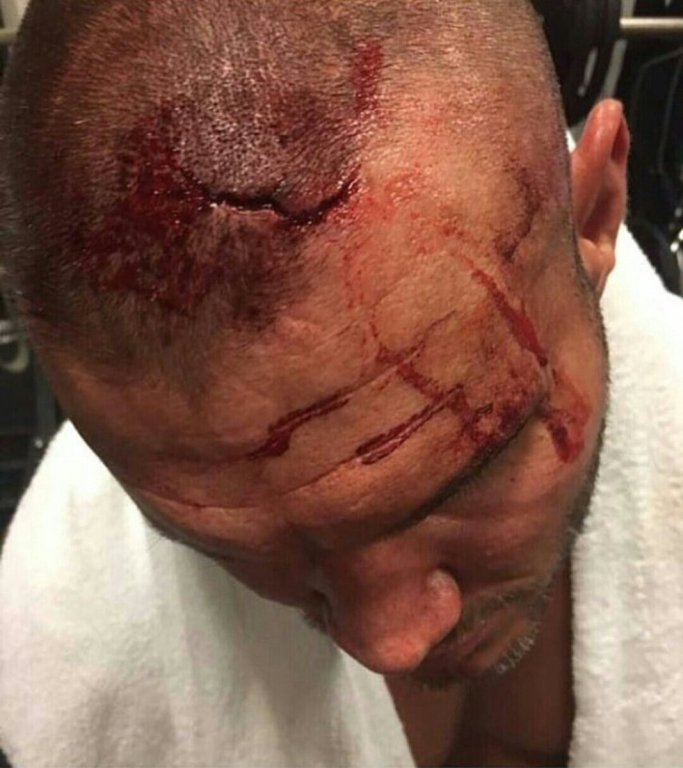 Sure it's nice that the added time gives everyone an extended chance to tell their stories, but there was plenty of nonsense that could have been cut out of the show (Hi Jon Stewart!) in order to keep the crowd engaged.
In order to keep you engaged, let's move on to more important topics.
What is Even Real?
Between Samoa Joe's Slammy nominee for best sell of the year, Brock Lesnar's brutal elbow to the head of Randy Orton (I dare you to look at the photo again), Sami Zayn's "ankle injury" on Monday and the best promo of Miz's life, the line between what's real and what is fake is getting incredibly blurry, which means we're all winning right now as wrestling fans.
It's so much easier to be intrigued by the product as a whole when you can't tell if something was scripted to happen. Take that promo by Miz for instance, the way Bryan pushes the issue about Miz's style and Renee's reaction is effing perfect. Renee may not have been cued in about what was going to be said, which is why her reactions were so great, but we don't know for sure and that's the beauty of it!
According to Dave Melzer of the Wrestling Observer, the conclusion to Orton-Lesnar went as planned. I doubt they anticipated a pool of Orton's blood to form in the center of the ring, but a ref stoppage and a TKO victory was exactly what they were going for. This is the second straight year Lesnar has closed SummerSlam with a BS finish.
Bonus question: Who did Brock Lesnar face last year in the main event of SummerSlam?
I thought the finishing sequence was actually very well done! Sure it didn't go as planned, but it looked brutal and got people talking and it gives Orton a match with Lesnar down the road. I've gotten into disagreements with people who cannot believe that Vince would send a legit MMA fighter out in the ring to bust someone open with his fists and elbows. "Just let them blade." This is a guaranteed way to get a bit of color and add drama to the final shot of the company's second biggest PPV.
Was this the right way to end SummerSlam IMO? No, but booking Brock Lesnar appears to be similar to solving a 10,000 piece puzzle.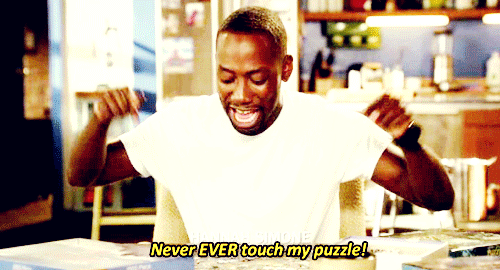 Even the Demon King Can be Injured
We should have known the rocket that was strapped on Finn Balor's back was going to have a complication when Vince lit the fuse. The Demon King's (I promise that's the last time I'll use his nickname in this column) performance at SummerSlam is even more impressive now that we know about the injury he suffered midway through the match.
The injury occurred when Rollins powerbombed Balor into the ringside barricade. Balor looked like he was about to land just short of the barricade and reached back to hook the top of the padding. His right arm landed at an awkward angle, which caused his right shoulder to pop out of its socket. Here's the video:
If you're squeamish, look away from the photo below: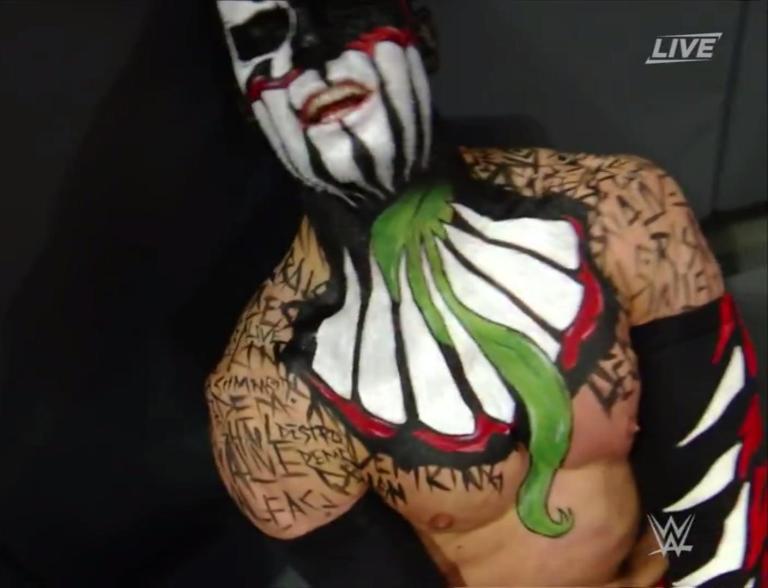 The camera quickly cut away from Balor as he popped his shoulder back into place so he could finish the match. Balor pinned Rollins clean in the middle to become the first Universal champion, but his reign would quickly come to an end as Balor was forced to relinquish the title on Raw after x-rays revealed that he suffered a torn labrum. It's roughly a six-month recovery window, which would put him back in the middle of WrestleMania season.  The ideal scenario would be for Finn to be a surprise entrant in the Royal Rumble and win the match to get his rematch at WrestleMania, but he might not be ready to go in time.
With a stacked deck against them, the creative team designed a series of matches on Raw to determine participants in a Fatal Four Way match for the title next week. Either Rollins, Kevin Owens, Big Cass, or Roman Reigns will walk out of Houston with the big red strap. Rollins is the favorite to win the match, but it wouldn't surprise me if Owens left with the title because this is a perfect opportunity to bump Owens up as a top heel on Monday nights. It's a nice spot for Cass, but he's still too green to win the title and this doesn't feel like the right time to give Reigns the title again.
The New Face of Tuesday Nights
We now know why AJ Styles ate a clean pin at Battleground and in the six-pack challenge on the inaugural SmackDown Live. Sometimes WWE's booking makes no sense, but you can see the pattern. They didn't want to give Styles too much momentum heading in SummerSlam and by making him seem beatable, it made his CLEAN win over Cena that much more surprising.
I mean seriously, when is the last time a heel "won" a feud against Cena and did it by pinning him without cheating?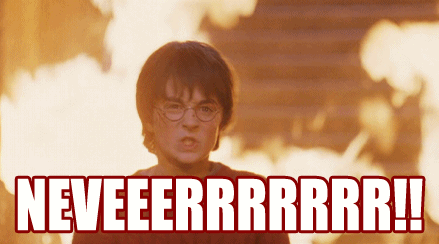 With Cena off to film another season of American Grit, Styles is now the top star on SmackDown, especially after the debacle that was Ambrose and Ziggler. The Ambrose train was flying down the tracks, but after his borderline heel performance on Sunday, the awkward build to his match with Ziggler and the goofy backstage segment on Tuesday, you can hear the engine starting to sputter. He and Styles had a decent match a few months ago on Raw and I would expect the two to have a better showing at Backlash, but the crowd could be dead by the time the two make their way through the curtain, especially if we have to witness American Alpha vs. Heath Slater and Rhyno for the nickel tag titles.
This feels like the right time to give Styles a run with the title. He's been nothing but exceptional since turning heel back in May, especially on the microphone, and deserves to hold the title for the rest of the year.
Which Show was Better this Week?
I've had this song stuck in my head for days thanks to the fans at the Barclays Center for belting it out in unison during Bobby Roode's incredible entrance.
In all seriousness, NXT Takeover: Brooklyn II was the best show of the past week and it really wasn't close. Outside of Ember Moon's debut (which wasn't terrible by any means), the show moved at a great pace and featured a match of the year contender between Tommaso Ciampa-Johnny Gargano and The Revival. There was also a damn fine match between Asuka and Bayley and Shinsuke Nakamura defeated Samoa Joe for the NXT title, so yeah this is worth your time if you haven't watched it yet.
Time to "Go Home"
– Ah I thought we were finally going to get the Bubba Ray heel turn, but instead we got a legitimate going away promo from the Dudleys. Maybe Velvet Sky is right. I'm not sure if a PG version of Bully Ray would work.
– Kudos to the crowd on Monday night for chanting "delete" after D'von mentioned the Hardys.
– Styles needs to keep wearing John Cena's armband until Cena comes back for revenge.
– I just about lost my mind when Seth Rollins busted out the GOD'S LAST GIFT against Balor:
– With guys using multiple finishers now, I hope Rollins gets a few wins with this move to help get it over with the crowd.
– I agree with Rollins' tweet about the crowd's negative reaction to the look of the Universal title. The crowd essentially hijacked the beginning of the match by chanting about their displeasure for the new belt. Sure it isn't the best looking title, but there's no reason to lose focus on a match between two of the best guys in the business today.
– Bayley is finally on the main roster! Now she gets to face Dana Brooke every other Monday night.
– Titus' promo had to be a rib right? There's no way he was scheduled to have that much time. I thought he started off OK, but man by the end I just felt bad for the guy.
– Can this feud between The Club and New Day please come to an end? These segments aren't funny and just come off as a waste of time
– Was Monday the beginning of the wrestler-to-manager transition for Enzo?
– Jericho, Owens and (insert name here) Phillips are just money together.
– I think Arn Anderson would be a better tag team partner for Heath Slater than Rhyno.
– Breezango and American Alpha had quite the little match on Tuesday night.
– The new stage that was used on SummerSlam, Raw , and SmackDown is fricking beautiful. LOVE the LED ramp.
– At least they've found something for Carmella, but my god she should never throw ground and pound punches ever again.
– Naomi should also never be a guest commentator again.
– I can get down with Orton vs. Bray.
– Shane McMahon said on SmackDown that the six women on SmackDown would face off in the first ever women's six-pack challenge match…
– Guess he's didn't pay attention to the second to last match at the 2001 Survivor Series.
– SmackDown's version of the tag and women's title look so much better than Raw's.
– I wonder if Shane is going to find someone besides Orton to try and get revenge for Brock's attack on him at the end of SummerSlam. Perhaps someone who is Samoan? Perhaps someone who has a name that rhymes with toe?
– I'd pay $9.99 to watch Lesnar vs. Jericho in a Lion's Den match.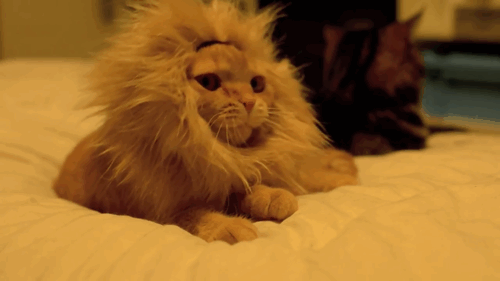 Follow me on Twitter: @ScottDargis