After last week's thunderous start to the brand extension, Raw and SmackDown settled down a bit this week, which is perfectly acceptable. It's not every week that you can have four excellent matches, including a title change and a shocking upset on Monday night…we just won't talk about last week's show on Tuesday night.
I don't want to waste your time with a pointless intro because there's 1,700 words about professional wrestling underneath this paragraph, so I'll give you a pointless gif instead:
Heelbrose
When Dolph Ziggler won the six-pack challenge last week to become the number one contender for the WWE world title, I wondered how creative was going to build the babyface vs. babyface program. This moment seemed like an ideal time to give Ziggler's character a makeover and begin a slow burn heel turn because Ambrose is the number three babyface on SmackDown (behind Mr. Cena and Mr. RKO).
So when the show opened with a promo segment between the blue brand's main event at SummerSlam, it was time to see if one of the two would begin to slide into a heel role and IMO that's exactly what happened, but it wasn't Ziggler who came off like a bad guy.
In those few minutes, Ambrose showed why he could become the best heel in the entire company.  He was smug, he was confident, but not comically confident like AJ Styles. He was a dick because he told Ziggler the truth and made the Show Off look like a fool for all of the mistakes he's made throughout his career. Ambrose also dropped the ultimate heel line: "I don't give a damn what people think."
Ziggler countered with the classic babyface line "I went to my first WWE live event when I was ____" but then followed up with a fiery face promo about how he was going to finally rise up and take the title from Ambrose, but then Heelbrose shut him down with his final line.
Then ish got confusing. Later on in the night when Ziggler faced Bray Wyatt in the main event for Ziggler's spot against Ambrose at SummerSlam, the champ sat at the commentary desk and put over Ziggler. Ambrose avoided being critical of Ziggler's decision to put his spot in the title match on the line and tried to make it seem like there wasn't any beef between them, even though he verbally crushed Dolph earlier in the night. Maybe someone in the back told him that he needed to come off like more of a respectful face towards Ziggler? Whatever the case, Ambrose's tone in the final segment was very different than what it was in the opening segment.
Ambrose is never going to be the top babyface on the show as long as Cena and Orton are around, so in order to differentiate himself from those two, it makes sense for him to show some heelish tendencies, especially with Orton playing a goofball face as opposed to his normal anti-hero tweener character.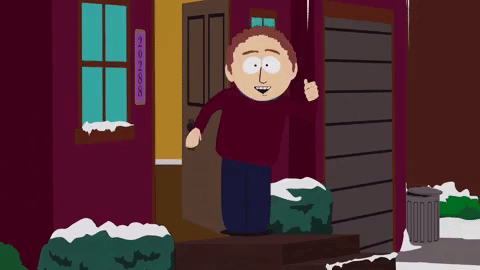 The Highway to Viperville
When Brock Lesnar vs. Randy Orton was announced for SummerSlam, Orton felt like nothing more than just another throw toy for the mayor of Suplex City, but then Lesnar's bubble of invincibility was popped when he failed two drug tests for taking clomiphene, an anti-estrogen blocker, before his fight at UFC 200.
Due to Lesnar's failure, the WWE could no longer promote The Beast's victory over Mark Hunt, so when Lesnar made his return from one of his patented hiatuses, it was fair to wonder if he or Paul Heyman would address the controversy.
Well that didn't happen. In fact, the only mention of the UFC was Heyman's reference to the "Brocktagon." Instead Heyman did his usual shtick while Lesnar bounced around in the ring, which has to be one of the easiest paydays in the history of the business. Heyman's promo focused on the fact that Orton isn't man enough to hit an RKO on his "client," so you could probably guess what happened next.
Some people are going to be annoyed by the fact it only took two weeks for a SmackDown guy to show up on Raw, but this surprise attack was done beautifully. Foley and Stephanie rushing out from the back without entrance music or a spotlight made the moment feel genuine. The "security" guards rushing out from the back also added some depth to the segment. The little things get skipped over way too often, but on when they're executed correctly, a good segment becomes an excellent segment.
The biggest takeaway from the closing angle on Raw for me was this: It finally feels like Orton is being booked correctly as a babyface. Even though he's been very cheesy, bordering on a smiley babyface at times, Orton is as over as he's ever been. When Lesnar showed up at SmackDown and hit the F5 on The Viper, you could hear a scattering of boos.
With the momentum that Orton has right now and the negativity that's surrounding Lesnar in the real world, it might be best for business if The Viper hits an RKO #OuttaNowhere and becomes the first man to pin Lesnar since he beat The Undertaker at WrestleMania 30.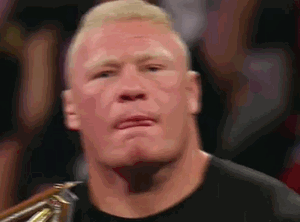 John Cena gets the shovel
In the build to the first match between AJ Styles and John Cena, Styles said that he brought The Club along with him so he "wouldn't get buried by Cena." Well without The Club on SmackDown, that's sort of what happened to Styles on Tuesday night.
Styles went on a heel rant that ended with a great line about being a winner:
But then Cena came back with one of his better promos in recent memory and made Styles look like a fool for all of the things he just said. Cena hit Styles in the gut with the proverbial shovel when he told him that Styles was in the WWE to "be a really good wrestler," while putting over all of the extracurricular activities that he's been participating in lately.
Even though it felt like Cena created a gap on the card between himself and Styles with his verbiage, Styles held his own here and came off like a slimy bad guy who knows how to always get his way. The crowd responded very positively towards Cena, which is easy to do when you make a four-year old kid in the front row part of your promo.
Sometimes wins and losses actually matter in professional wrestling and at SummerSlam, Styles could really use a clean win over John Cena. Cena won't be hurt by the loss and if anything, it'll help these positive reactions continue because if Tuesday night proved anything it's that SuperCena gets booed and John Cena gets cheered.
Roman Reigns: The True American Hero
When Finn Balor pinned Roman Reigns clean in the middle of the ring last week, Roman's SummerSlam plans became a bit murky, but on Monday night they became crystal clear.
After Rusev beat Mark Henry clean (for the 13051 time), Rusev began to cut a promo on the Olympics and Reigns just couldn't take it anymore (lol), so he confronted Rusev and put him down with a Superman Punch.
This is a PERFECT program for Reigns. Even though Rusev gets positive reactions when the WWE goes to smarky towns, the person who has played the American foil to Rusev's foreign character has almost always gotten a very positive reaction. When Roman's music hit on Monday, he wasn't booed out of the building, so we're making progress.
Listen, he's still going to get lit up by the Brooklyn crowd, but this is a massive step in the right direction. Vince and Co. are stuck on the idea of keeping Reigns as a babyface and a nice run with the U.S. title might just do the trick especially if creative follows the John Cena formula and has Reigns do a series of open challenges with the title (which should culminate with Braun Strowman answering the challenge).
Which show was better this week: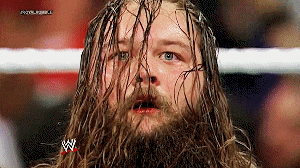 SmackDown was paced nicely this week, while Raw felt like a slow three hour show, which is never a good thing.
Time to "Go Home"
– I was a bit surprised with the small amount of time Balor got to speak before Rollins interrupted him. The promo between the two was above average and crowd responded positively to Balor's fire on the mic, but it would have been nice for him to get a minute or two by himself in the ring.
– Ziggler's Spirit Squad throwback gives me an excuse to put this in:
– In kayfabe, Ziggler is the biggest idiot in the locker room. Keep your title match bro.
– Even though the opening promo on Monday between Sasha Banks, Charlotte, Enzo Amore and Chris Jericho went for 21 minutes, I really enjoyed some of the one-liners that were dropped. Charlotte's line about Enzo's love life was a legit LMAO moment that almost caused me to choke on the nachos I just made.
– Another LMAO moment from Monday: Stephanie yelling at the security guards to get Orton out of the building: "He's taking his shirt off, get him outta here!"
– American Alpha felt like an afterthought when SmackDown ended. The crowd seemed to get into their offense, but why didn't they have an interview segment backstage before or after their match? Baffling.
– I can't believe Chad Gable's actual height (5'8") was listed in his bio graphic.
– The new entrance graphics on SmackDown are fire af.
– I have no idea where they're going with this Eva Marie "injury" angle, but color me intrigued.
– Glad to see that JeriKO might be coming together for an actual run as tag team partners. Kevin Owens is quickly becoming the most underutilized guy on the entire roster and a tag run with Jericho (who has been doing some of his best work in years) would be great for him.
– How much money would it take for you to get beat in a squash match by Brawn Strowman?
– What about Nia Jax?
– Styles saying "you don't get desert before dinner" doesn't help his soccer mom gimmick.
– I agree with all of the people on r/SquaredCircle (shout out!) about the diminishing impact of the suicide dive/spear through the ropes spot. It's a very dangerous spot. Enzo, Big E and Sasha have flirted with disaster way too many times. It's time to bench the move and only bust it out once or maybe twice a year. If you take the spot away from the crowd, they'll respond better when it actually happens.
– The kid who held a fist up to support Cena deserves an Emmy.
– I may have to start watching Talking Smack (which btw is smart programming for the network):
– Too bad Bryan didn't talk about the new member of the SmackDown roster: Apollo Creed.
Twitter: @ScottDargis