The good news about Monday's Bachelorette Hometowns episode? The ARB vs. Luke battle for JoJo's heart reached peak ridiculousness. The bad news? Two of the four dates were boring AF, ARB and family spent the entire date talking about The Brother Who Shall Not Be Named (WITHOUT ACTUALLY SAYING ANYTHING) and they ended the episode with another pointless To Be Continued.
But hey, they don't pay me NOT to write, so here we go…
MVP
The producers! In a show SO overly scripted that dropping a gossip mag defaming the star of the show DURING an episode came and went like a bad fart, Monday's Hometowns episode was abhorrently overproduced and staged. The overt Aaron Rodgers references, having Robbie's mom bring up the "right reasons" BS and the push toward Luke in the final date of the night were just appetizers for the grossest, most overt producer intervention.
I mean, seriously, you set Luke up as the rising hero, the Prince Charming in cowboy boots stealing JoJo's heart in the final date. Then, she says, out of nowhere, she has to send Luke home, only to have Luke ask for a minute alone right before and THEN he tells her he loves her and she changes her mind completely? Because when there's no drama about the final two (and there isn't), you have to find some way to juice up the two episodes before the finale.
They're not even trying to hide it anymore.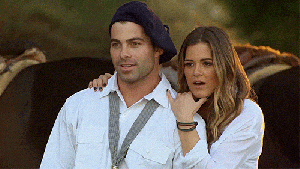 Luke, you are the winner (maybe)
We'll get to ARB in a minute, but if last night's "swerve" showed anything, it's that the producers are trying to build the ARB vs. Luke drama by giving each a legit shot to win and at least one crucial flaw. The physical attraction between JoJo and Luke has been evident from the jump, but they've spent the past two episodes trying to show Luke is more than just great hair, a chiseled chin and an emotionless, empty soul of a human being with lips that barely move. I've been Team ARB from the jump, but last night's date with Luke and family was enough to unnerve me at least slightly. JoJo fits into that whole Texas motif Luke has going and she very clearly would like to be not wearing clothes with him ASAP.
The question, of course, is whether Luke's late-night love plea was enough to sway ARB out of the frontrunner spot. I'm still hesitant to name anyone other than ARB for that spot, but for the first time in a while (maybe all season), there's at least a legit contender to the throne.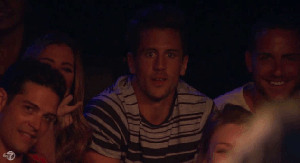 The Rodgers Family drama
Here's the thing about the Jordan-Aaron relationship: It was interesting when they didn't talk about it, but it's annoying as hell when all you do is dance around it without actually saying anything for 30 minutes. ARB legit said last night "it doesn't need to be a topic," but then JoJo (read: the producers) and the Rodgers family spent basically the entire date talking about how they don't talk about or to Aaron. I get it. If Jordan won't open up, if the family won't open up, there's nothing really there to talk about, but then, IDK, maybe spend more time on ARB and JoJo's relationship instead? Crazy idea, I know.
I will say that ARB taking JoJo to his high school was the most real, "hey that's something a normal person would do" date I've seen on this show. Also, we got another ARB-JoJo makeout up against a hard surface in ARB's high school library, which led to my fiancee giggling and yelling, "Do you know the Dewey Decimal system?!"
Go away, Chase
I don't have much to say about Chase's date. It was dumb. He's dumb. The whole thing was dumb and a waste of time. I'm fairly convinced JoJo enjoyed drinking with Chase's mom on that ski lift chair more than hanging with Chase.
Also, I kind of felt bad for Chase's dad. The entire family got a full dinner and hang session at his mom's house, but JoJo and Chase spent 15 minutes in the undecorated basement of his dad's lame condo. JoJo didn't even get one-on-one time with his dad. SAD.
(Side note: Did Chase's mom have that ski lift chair/bench thing already or did the ABC producers rent it? Can you buy one of those things on eBay and if so, does it come complete with a perfectly-placed faux-fur throw blanket?)
What are the right reasons?
Here's the thing about Robbie and JoJo. There's really nothing there. I mean sure, they're attracted to each other and they seem like they have fun together, but all of this love stuff and talking about how great their connection is — it's all bull.
(She couldn't tell ARB's mom or Luke's mom that she was falling for them but she drops it to Robbie's mom? Yeah, cool.)
But really, the worst part of this date was the constant theme of whether Robbie is over his ex and really there for JoJo (God I can't believe I just wrote that). The truth is that JoJo got dumped by Ben at basically the same time Robbie broke up with his ex. And I haven't heard Robbie dropping his ex's name three times a week for the past two months. So, really JoJo, if you're going to interrogate someone for not being over their ex, maybe you should stop comparing every guy to Ben and dropping his name every time you need to illustrate how hard it is for you to trust someone.
But that's just me.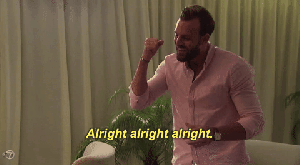 Random notes
Luke met JoJo on the train tracks in what looked like an abandoned Old West town and it was the most normal intro to any of the dates. This ain't the Notebook, guys. It's OK to meet at someone's apartment.
The original version of this recap contained roughly 17 inappropriate jokes about Chase's childhood and divorce, but I chose to omit them for safety's sake.
Did JoJo keep Chase around because he's a salesman from Colorado?
Aaron Rodgers looks exactly like his mom — including the hair.
Who else noticed how fast JoJo turned on that southern accent for Robbie's family and that Texas accent for Luke's family?
Why did Robbie have plastic wine glasses inside of another plastic glass? Your familyI[ can't be trusted with just ONE plastic glass?
I'm convinced Luke and his dad have never talked for more than 5 minutes at a time before the producers staged that talk Monday night.
Quote of the week
From the fiancee…
"Oh! It's fantasy suites next week. They gon' bang. Oh, they gon' bang."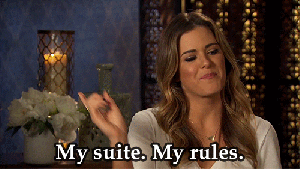 'TIL NEXT WEEK.