With the biggest weekend in the history of the UFC right around the corner, Rotoworld's Josh Norris – NFL Draft expert by day, gigantic MMA fan by night — and myself have decided to share our picks for the biggest matches of the weekend.
Literally in the middle of typing the opening paragraph the Jon Jones news dropped, which means BROCK LESNAR is going to fight in the main event of UFC 200. What a time to be alive. And now…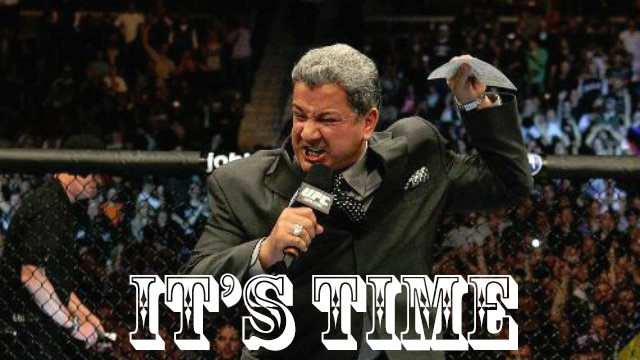 UFC 200 Main Card
Daniel Cormier vs. Jon Jones
Dargis: "Bones" is the easy pick here. I know he looked mediocre in his return fight against Ovince St. Preux back in April, but we're going to see a vintage Jon performance. He looks so relaxed and confident heading into this fight that I just don't see how Jones doesn't walk out of Vegas the undisputed light heavyweight champion.
Norris: When squared off at Wednesday's press conference, Cormier told Jones to "keep playing games." Cormier is the one who could not oust the final boss at UFC 182, and he won't be able to find victory against Jones in his second attempt at UFC 200. Was Bones impressive in his victory against Ovince St. Preux? Not especially. But was it a poor performance? Not at all. Jones has not finished an opponent in his last four fights, the last being Chael Sonnen at UFC 159 in April of 2013. That changes on Saturday. And to take it one step further, this loss will push Cormier back to heavyweight or into retirement, as he will not get a third shot at Jones' title.
Prediction: Jon Jones
Mark Hunt vs. Brock Lesnar
Dargis: While Hunt is the safe pick due to the combination of his punching power and Lesnar's notoriously soft chin, I can't pick against Brock. Despite being away from the cage for almost five years, Lesnar is going to be in excellent shape. I expect Lesnar to takedown Hunt early on, but I must say that Brock needs to be careful of diving in recklessly at Hunt, because the "Super Samoan" carries knockout power in his short punches.
Due to his superior wrestling ability I think Brock wins by TKO due to punches.
Norris: Mark Hunt is headlining UFC 200. I am thrilled. When the UFC purchased PRIDE, Hunt's contract carried over. The UFC attempted to buy him out for $450,000 rather than schedule a fight for Hunt. The Super Samoan declined, and entered the Octagon with a record of 5-6… and lost. That capped a six fight losing streak. Since that 2010 bout, Hunt as only lost to the division's top names: Junior Dos Santos, Fabricio Werdum and current champ Stipe Miocic.
Mark Hunt is headlining the biggest card in UFC history. Unbelievable.
I am simplifying, but this entire fight comes down to the first takedown attempt. There are more questions than answers with Brock. Do I buy he has only been training four weeks for this fight? I bet it is closer to four months. But even when younger and healthy, Lesnar's standup is far from smooth or comfortable. If Hunt stops that first takedown attempt, like Alistair Overeem did (Ubereem at the time), Lesnar has no shot. Zero. In fact, I would not be surprised if a short uppercut on that initial attempt ends Lesnar's night. Never play "six inches" with Mark Hunt.
But if Brock wins, you can guarantee he continues to fight and gets the next title shot against the winner of Stipe Miocic and Alistair Overeem. It is best for business.
Prediction: Mark Hunt
Miesha Tate (C) vs. Amanda Nunes (Women's Bantamweight Title)
Dargis: Before I make my pick, just know if you Google: "Who is the UFC women's champion?" Ronda Rousey appears…
It's incredibly tempting to pick Nunes due to her aggressiveness and striking ability, but Tate's chin is incredible. Tate does needs to finish Nunes off, because if the fight were to go the distance, the title could very well change hands because I expect Nunes to control the first two rounds of this fight, which means she would only have to win one more round to take the fight.
I just don't think Nunes will be able to finish Tate off, which will allow Miesha to claw back and retain her title by submission.
Norris: One female champion loses this weekend, and I see how both can. In Miesha's case, she is a slow starter and even in wins she absorbs huge shots. Julie Kedzie's shin to her face back in Strikeforce and the first round against Jessica Eye are two examples. If an opening is there, Nunes has stopping power in her fists. Keep in mind four of Nunes' last five wins ended in round one.
With all of that said, Tate is the logical pick. There's a strong argument for Tate being the toughest fighter on the roster, absorbing large amounts of damage and grinding out wins. If this makes it out of round one, Tate retains.
Prediction: Miesha Tate
Jose Aldo vs. Frankie Edgar (Interim Featherweight Title)
Norris: Edgar's five fight winning streak is impressive, ending three of those before the final horn. Aldo's response from his first UFC loss will be one of the biggest questions of the night. Will he attack Edgar's legs, limiting "The Answer's" mobility and frenetic pace? Or will Aldo be tentative, not wanting to overextend and eat another left hand. This is a prediction I am not confident in.
Prediction: Frankie Edgar
Dargis: Even though there are plenty of questions surrounding Aldo because we haven't seen him since the social media knockout of 2015, it's impossible to ignore the streak he put together before his unfortunate encounter with Conor. Kudos to Edgar for using Aldo's loss as fuel for his trash talk, but if McGregor ever sets foot in the cage with Frankie, he'll wax the octagon with "The Answer."
I do think this fight will go the distance and Aldo will get his hand raised after a unanimous decision victory and set up a return fight against McGregor, who will need to drop back to featherweight if he loses again to Nate Diaz.
Travis Browne vs. Cain Velasquez
Norris: The Cain Velasquez we saw take the title from Brock Lesnar might be the best heavyweight in the promotion from UFC 100 to 199. However, it is difficult to know what Cain enters the octagon on Saturday due to the number of surgeries accumulated in his last few years. The Cain who stands out is a workhorse. A grinder who wears down his opponent against the cage and in the clinch. Limiting Browne's distance is a key here.
Prediction: Cain Velasquez
Dargis: Picking Browne here because Velasquez is just broken goods at this point. We have no idea which version of Cain is going to show up on Saturday night, but we know exactly what to expect from Browne. He's going to throw bombs and force Velasquez to respond.  This almost feels like the first semifinal of a tournament to determine the number one contender for the heavyweight title, with the second one coming later in the night between Hunt and Lesnar.
Browne vs. Lesnar with an opportunity to fight for the title is getting me hyped up, I need a drink.
Twitters: @ScottDargis @JoshNorris
Preliminary Card
Julianna Pena vs. Cat Zingano
Dargis: Speaking of contender fights, I would have to imagine the winner of this one is getting a shot at either Holly Holm or the winner of Tate vs. Nunes.
Unless Ronda returns and just blows up the division.
This was the toughest fight of the weekend for me to pick because Pena is ascending rapidly in the division, but Zingano looked dominant until her 14 second loss to Rousey 18 months ago. Zingano swears she'll enter the cage in top condition on Saturday, but the layoff has me worried. I'm taking Pena by submission in the third round.
Norris: Due to injuries and monumental personal events, this will only be Zingano's sixth fight from 2011-2016. She has wins over both Miesha Tate and Amanda Nunes. After working with Dominick Cruz and Alliance MMA, the veteran will be too much for the 26-year-old Pena.
Prediction: Cat Zingano
Kelvin Gastelum vs. Johny Hendricks
Norris: The only exposure we have of Johny Hendricks following his move from Team Takedown is the dismantling Stephen Thompson displayed in February. It was easily the worst Hendricks has looked in the UFC. While Gastelum is 1-2 in his last three fights, split decision losses to Tyron Woodley and Neil Magny are understandable. In comparison, Hendricks' skill set appeals to Gastelum's strengths.
Prediction: Kelvin Gastelum
Dargis: I'm not sure if anyone needs a convincing win more than Johny Hendricks does this weekend. It seems like a decade has passed since his two encounters with Robbie Lawler. Between the weight cutting mishap last October and the embarrassing performance against Stephen Thompson in February, it's shocking that he's still ranked sixth in the division.
I seriously thought something was wrong with my computer when I looked at the rankings.
Despite dropping two out of his last three fights (which were both by split decision), I'm taking Gastelum by unanimous decision.
Raphael Assuncao vs. T.J. Dillashaw
Dargis: So this one is also super tough to pick, but I'm going with Dillashaw to avenge his split decision loss to Assuncao from back in October of 2013. Dillashaw claims he's continuing to grow as a fighter, but I'm expecting to see a typical Dillashaw performance, which won't be enough for him to gain a title shot against Cruz. The UFC just has it out for this guy.
Norris: I'm amazed at the lack of attention around Dillashaw. The former champ lost to Assuncao in October of 2013, but his game has greatly improved since attaching himself to Duane Ludwig. From a fighting standpoint (not tickets or hype), Dillashaw should have received a shot at the title shortly after losing the belt.
Prediction: T.J. Dillashaw
Enrique Marin vs. Sage Northcutt
Norris: I know nothing about Marin. Google even asked if I meant to type "Enrique Martin." I do know about Sage Northcutt and that his strep throat was devastating prior to his loss to Bryan Barberena. Building Northcutt slowly is the right move, and this is one step in the process.
Prediction: Sage Northcutt
Dargis: The Golden Boy is back! Sage swears he's healthy heading into this fight, which feels like a layup against Marin, who is only making his second appearance in the octagon. Sage's speed will be too much for Marin, so I'm picking Northcutt by TKO.
Plus I just want to see this again:
Joe Lauzon vs. Diego Sanchez
Dargis: Lauzon enters this fight with 18 submission victories and Sanchez has never lost by submission, you'd think something has to give, but then when I looked deeper into Lauzon's record I noticed that he hasn't recorded a submission victory since 2012. I initially picked Lauzon, but the more I look into this fight, the more I'm leaning towards Sanchez. So I'll go with Diego by unanimous decision because this fight is definitely going the distance.
Norris: Neither fighter has looked great in their last handful of bouts. If this one goes to the ground, Lauzon has the clear advantage, and Lauzon will instantly jump on chokes from all angles if he drops Sanchez.
Prediction: Joe Lauzon
Gegard Mousasi vs. Thiago "Marreta" Santos
Dargis: I'm expecting these two to throw some absolute bombs as both have legit knockout power. Mousasi seems like the safe pick here, but there's just something about Santos' recent performances that are pushing me to pick him, so that's exactly what I'm going to do.
Lock of the night: this fight ends in either KO or TKO.
Norris: While I initially guessed Santos would have the length advantage, both figthers' arm and leg measurements are equal. Mousasi produced a great first round against Uriah Hall before getting tagged and finished. Santos' takedown defense stands at an impressive 85 percent, but Mousasi grinds him out in this one.
Prediction: Gegard Mousasi
Takanori Gomi vs. Jim Miller
Norris: Miller has lost four of his last five. Gomi has lost three of four. Gomi was a star during his time in Japan, and his losses in the UFC are to well respected names. Add Jim Miller to the list.
Prediction: Jim Miller
Dargis: You smell that desperation Norris? It's coming from both Gomi and Miller. The combined record between these two in their last five fights?
3-7
That is atrocious! Miller got whooped by Diego Sanchez back in March and Gomi is coming off of a pair of first round losses by TKO. I flipped a coin and it landed tails, so I'm going with Gomi.