If you're a NBA player and Matt Barnes hasn't agitated you, you've probably been living under a rock.
The Grizzlies' forward is known for getting in people's faces and not backing down.
And he's also not afraid to fight people.
Barnes tweeted last night that his lawyer told him he needs to chill on social media or else it's going to be used against him in court.
It's unclear who exactly Barnes may be attacking or who is complaining, but he does have a certain ugly history with an ex-Knicks coach.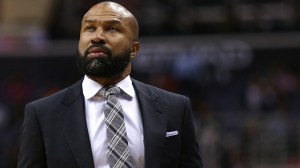 MORE: Barnes' Instagram post throws shade at Derek Fisher