During an AHL game in San Antonio on Sunday, five-year old James Evans was struck in the head by a stray puck. The cut was so bad that Evans needed to be rushed to the emergency room immediately.
While he was in the middle of receiving staples and stitches to close the cut, Evans had just one question for the doctor in the ER:
"Can you hurry so I can go back to the game?"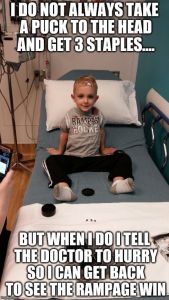 (Credit mySA)
According to Evans' father, they were able to get back to the game in time to see the final few minutes of regulation and a victory for the Rampage in overtime.
(Credit mySA)