Green Bay Packers' running back Eddie Lacy's offseason tour of proving that he's shed some massive pounds has continued in Malibu, California, where he was gracious enough to take a picture with a Packers fan at Nobu.
Of course, in this era where anything an athlete does is a story or an angle, the fan sent the image to the Milwaukee Journal Sentinel along with letter fully detailing their brief encounter.
"He looked really fit and looked like he lost a lot of weight," Engen wrote in an email to the Journal Sentinel. "Eddie was eating fish, was really friendly and conducting himself as a class act."
"I'm the guy in the photo with Eddie," Engen wrote. "I'm 5-9, 185 pounds and he is much thinner than me."
For context, Lacy was deemed as Fat Eddie after several unflattering images of him surfaced during the 2015 preseason.
https://twitter.com/davidpwoods/status/361935429127241729/
At the conclusion of last season, one where Lacy struggled to match his first two seasons in the league, Packers head coach Mike McCarthy stressed that the 25-year-old needed to be in top shape this season or face the prospect of not playing for the team at all. It appears as if the 2013 second rounder has heeded his coach's words and is in tip top shape. He was also photographed with PX90 creator Tony Horton.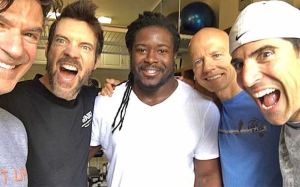 A Weight Watchers endorsement may be in the running for Lacy.