Packers running back Eddie Lacy is pretty serious about losing weight.
And it's not just a couple of pounds.
Check out this photo from Facebook of Lacy with PX90 creater Tony Horton.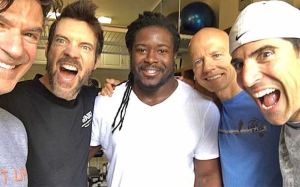 Wow.
Lacy has been criticized by scouts for being too big and putting on too much weight. Packers coach Mike McCarthy also made it very clear during the season that Lacy needs to get into shape or else.
So is "Fat Eddie" officially dead?
At the moment, it seems like it. But it's also only March so there's a lot of offseason left.