The NFL Draft Combine is the perfect time to assess the physical abilities of NFL draft hopefuls, and many of the athletes are hoping to raise their draft stock and catch the eye of a coach.
It's also excruciatingly boring.
Enter Tom Cable, the offensive line coach and assistant head coach for the Seattle Seahawks. (h/t to our friends at SB Nation)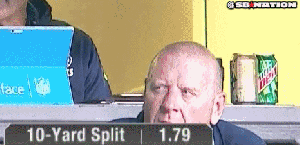 I don't blame him. But can somebody please go get him a coffee? Or at least hand him that Mountain Dew in the back?