What do you do when your high-school game gets interrupted by unruly, coin-throwing fans?
You play Duck-Duck-Goose, naturally.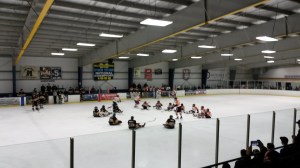 (Via Reddit)
This all started because the student section at the Perkiomen Valley hockey game at Center Ice in Oaks started throwing coins onto the ice. The section got so rowdy that they were removed by police.
Now, this is a wonderfully whimsical response to a game delay. But PLEASE PLEASE PLEASE do not throw coins onto the ice, at any level of play. That is how you ruin careers before they even get started. Please.